There's no shortage of things to do and see in Kalgoorlie, and if you're planning to bring the whole family down, there's plenty to keep the kids occupied too!
From fun history excursions to bush walks and picnics at the park, to fascinating ghost towns and unusual but unmissable landmarks and art works, here's our pick of Kalgoorlie's best sights and activities for families.
Turn back time at Hannans North Tourist Mine
Location: 130 Goldfields Hwy
Opening Hours: Sunday to Friday from 9am to 4pm (closed Christmas Day, Boxing Day, and New Years Day)
Entry Cost: Ticketed (learn more about entry fees and guided tours here).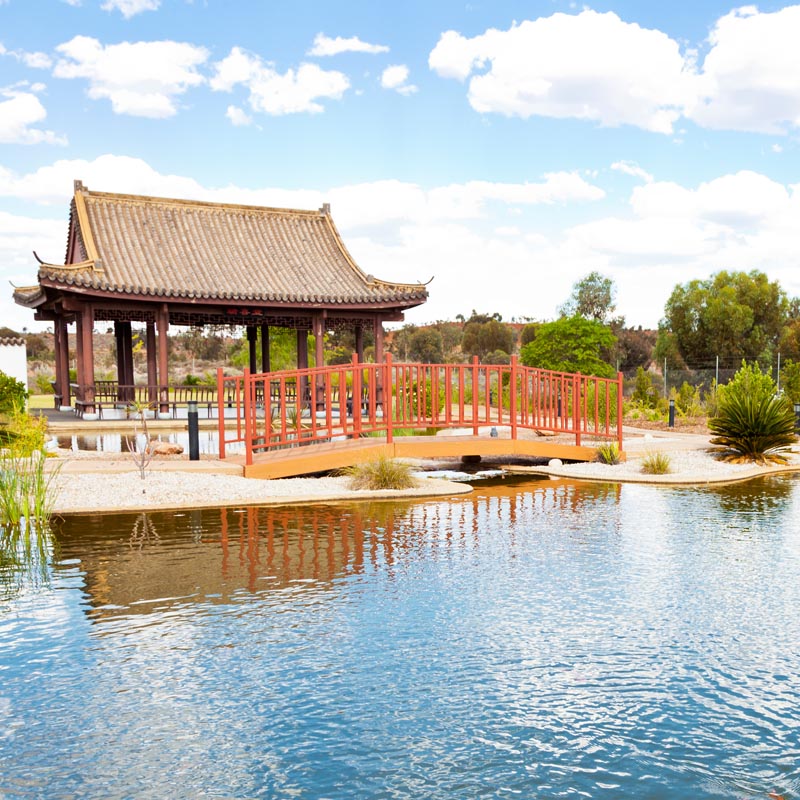 As one of the first mines to open in Kalgoorlie, Hannans North Tourist Mine has a long and storied history. Here, you'll get a glimpse of what life was like in Kalgoorlie's gold rush era with some fun hands-on experiences that the whole family can enjoy.
Explore the makeshift tents and cooking fire pits dotted around the Prospector's Campsite, peer down old mine shafts, and inspect pioneering mining machinery.
You can try your luck at gold panning, climb the big truck to snap some photos, or even play a round of two-up – a favoured pastime amongst ANZAC soldiers and mine workers back in the day.
If you want to take a breather after all the excitement, you can have a wander through the beautiful Chinese Remembrance Garden or enjoy lunch at the free barbecue facilities.
Before you leave, be sure to pass by the gift shop to pick up a souvenir!
Have a picnic and play at Hammond Park
Location: Memorial Drive
Opening Hours: October to March from 9am to 7pm and April to September from 9am to 5pm
Entry Cost: Free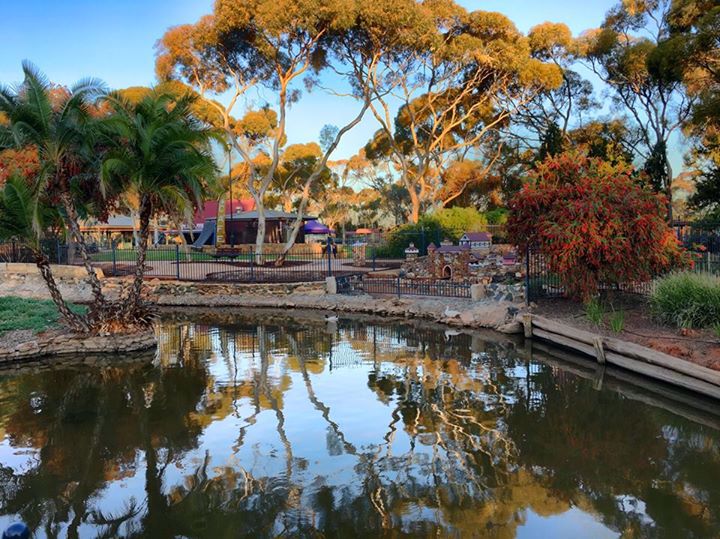 If you were expecting red dirt roads everywhere, you'll be pleasantly surprised by the beautifully lush and green Hammond Park!
This sprawling park has plenty of room to roam and is a popular spot for birthdays and weddings thanks to its great facilities and scenery.
Always buzzing with families and friends unwinding on the weekends, you'll find a large playground for the kids to explore, winding duck ponds, and roaming peacocks. Little ones will also be enchanted by the miniature Bavarian village on display.
You can pack a picnic lunch and sit under the shade of the trees, fire up one of the park's barbecues, or walk up to the nearby cafe for a coffee and bite to eat. If you'd like a sit-down meal somewhere else, however, have a look at our guide to kid-friendly restaurants in Kalgoorlie for our top recommendations.

Check out the Super Pit mine
Location: Fimiston
Opening Hours: 7am to 7pm daily
Entry Cost: Free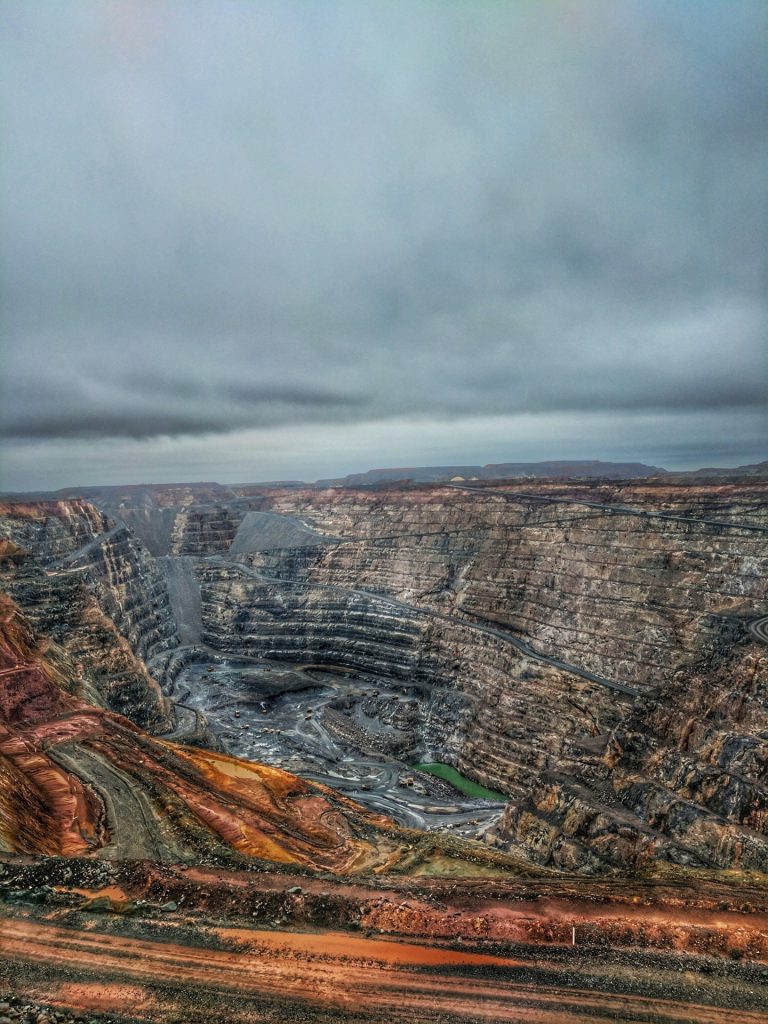 A trip to Kalgoorlie wouldn't be complete without going to the Super Pit, one of Australia's largest open-cut mines. Take a free guided tour around the mine site, where you'll learn more about its history, current operations, and see the entire mining process up close – the kids will be wowed by the views underground and from above the mine!
Look out for wildlife and native plants at Karlkurla National Park
Location: 57 Paddington Drive
Opening Hours: 24 hours
Entry Cost: Free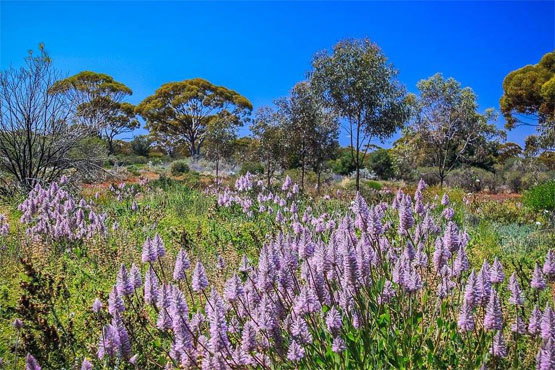 For a Karlkurla National Park. Its name is derived from the Aboriginal word "Karlkurla", which means "silky pear" – a type of native fruit that is found in and around the Kalgoorlie area.
Spanning 200 hectares, the park is home to a range of local birdlife, small reptiles, kangaroos, and unique plant species that bloom spectacularly in the springtime. As the day cools down, you can go for a tranquil stroll down the interpretive walking trail and take in the sunset at Katunga lookout.
Pet-friendly, cyclist-friendly, and equipped with public toilets and a picnic and barbecue area, you'll have all the facilities you need nearby to take the kids on a bushwalk without too much fuss.
Cool off at the Goldfields Oasis
Location: 99 Johnson Street
Opening Hours: The outdoor water playground is open from 11am to 4pm during every day over summer. The slide is open for specific sessions only—check their website to find out more.
Entry Cost: A single visit is $7.00 for adults and $5.00 for children, or $20.00 for a family. Water slide passes are extra, at $7.50 per person per session, or you can pay $16.50 for an all day pass.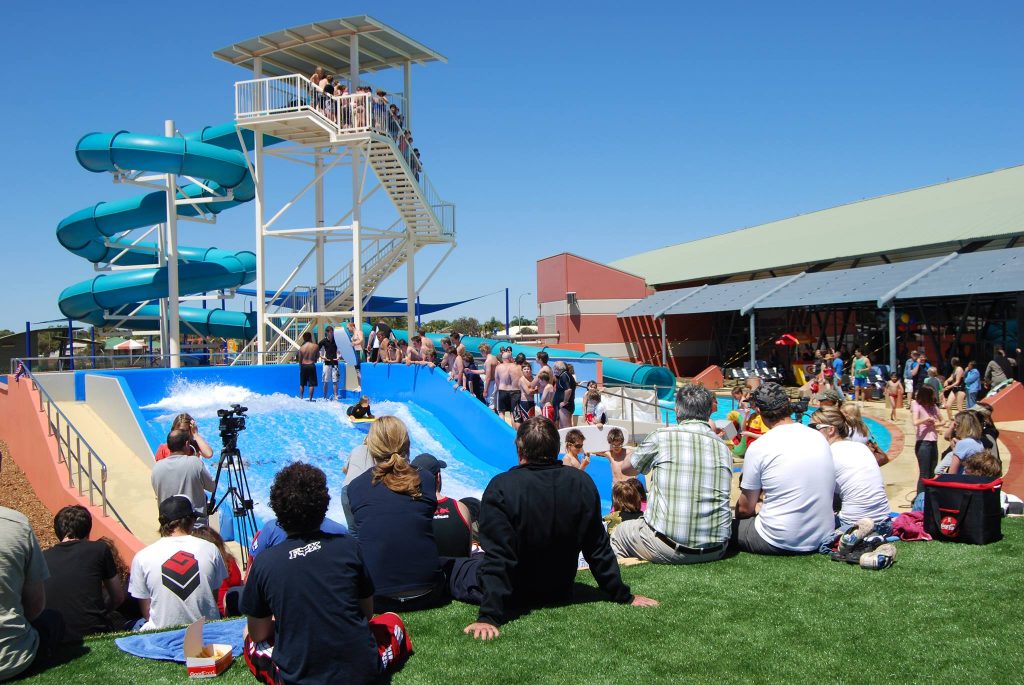 A true oasis in the desert, the Goldfields Oasis is the perfect place for the whole family to relax and cool off, any time of year.
The 10-lane, Olympic-size 50m pool means you can still get those laps in during your Kalgoorlie holiday. But the real fun lies outside, in the outdoor water playground. Featuring a giant waterslide that twists and turns for 80m, interactive sprays, buckets, and water cannons, the kids can let off some steam while you relax by the pool.
If you're feeling peckish, grab a coffee or some well-earned hot chips from the cafe, Flavour #3015 which you'll find tucked way inside the venue. Or make a day of it: with a free playground, barbecue facilities, and a picnic area, you can set up, relax, and escape from the heat and dust of the Goldfields.
Take a tour of the historical — and haunted — Kalgoorlie Town Hall
Location: 316 Hannan Street
Opening Hours: Guided tours are available on Mondays and Wednesdays at 10:30am
Entry Cost: $10 for adults, $8 for concession card holders, $4 for children under 16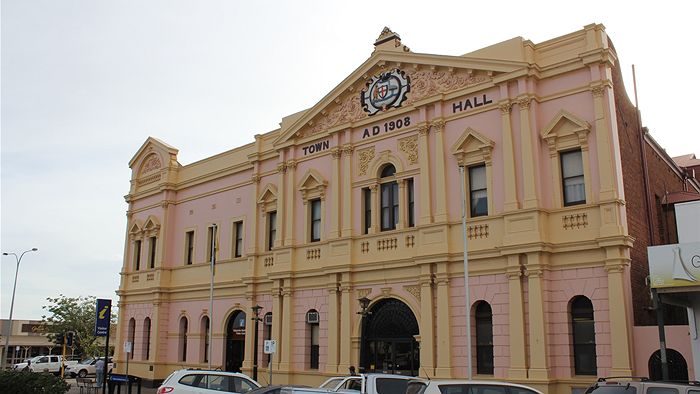 Kalgoorlie is home to some stunning Federation buildings, and none more so than the iconic Kalgoorlie Town Hall.
Now a heritage listed building, it began its life in 1908 as a state-of-the-art theatre. Wander the halls and learn all about its early life, see the original architectural features, and pass by the commemorative statue of Paddy Hannan, the first person to discover gold in Kalgoorlie.
But it's not just the beautiful, ornate setting that keeps you there.
While the architecture might not be enough to tempt the little ones, the thrill of the supernatural might be. The building itself is said to be one of the haunted hotspots of the Goldfields. Stories are told about hearing unexplained noises coming from different rooms, and in others, feeling a mysterious presence in the room with you.
It's a fascinating place to immerse yourself in Kalgoorlie's history, while indulging in a spooky side quest of ghost hunting—if you dare.
See the World's Tallest Bin
Location: 19 Outridge Terrace
Opening Hours: 24/7
Entry cost: Free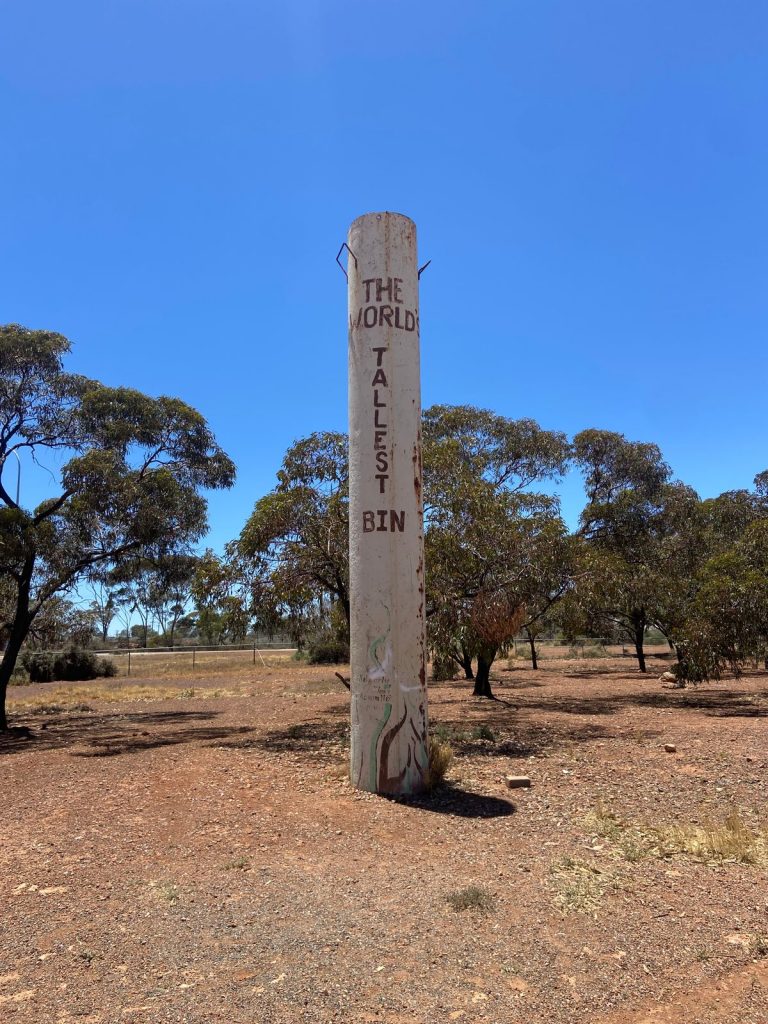 Queensland has The Big Pineapple, New South Wales has The Big Banana, and WA has… The World's Tallest Bin.
It's an odd world record to hold, but the self-proclaimed World's Tallest Bin is one of the more unusual destinations you should put on your Kalgoorlie road trip bucket list.
It's unusual for many reasons. Partly because it's so out of the way. And partly because, well, it's a bin. But what a bin it is. Standing at eight metres tall, it's almost impossible to actually put rubbish into. But that doesn't stop people from trying.
Built in 1980 as part of the WA Tidy Towns competition, it's made out of water supply pipes, giving it a structural integrity that most bins don't have. Originally, it was only supposed to be an advertisement for the competition, and it's remained as an unusual drawcard ever since.
Lake Ballard
Location: Shire of Menzies, north of Kalgoorlie
Entry Cost: Free
Driving time: 2 hours 20 minutes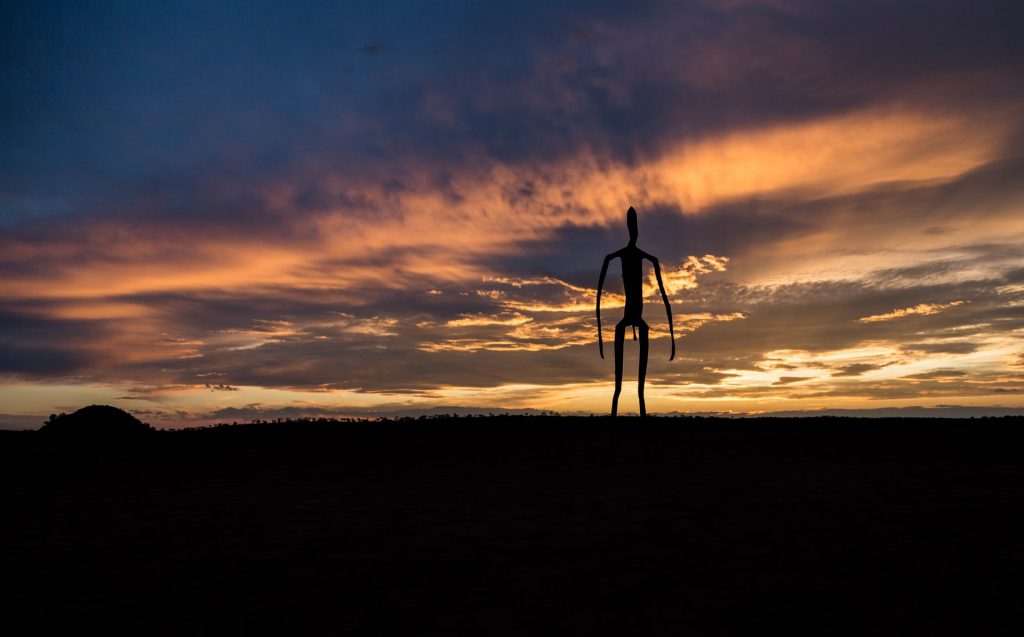 Part of the Goldfields' ancient river system, Lake Ballard is a salt lake that is home to what has been named the largest outdoor art gallery in the world.
Across the sprawling salt pan are 51 sculptures which were modelled after the locals who lived in the nearby town of Menzies at the time of their creation.
Spying the willowy and abstract figures as they appear to traverse the lake is a stunning sight to see and a great photo opportunity for the 'gram.

Before you visit Lake Ballard, it's important to be prepared. It's advised to bring your own supply of food and water and take your rubbish when you're ready to leave, as there are no water or rubbish collection facilities nearby.
Credo Homestead and Conservation Park
Location: Mount Burges, north-west of Kalgoorlie
Entry Cost: Entry fees may apply
Driving time: 1 hour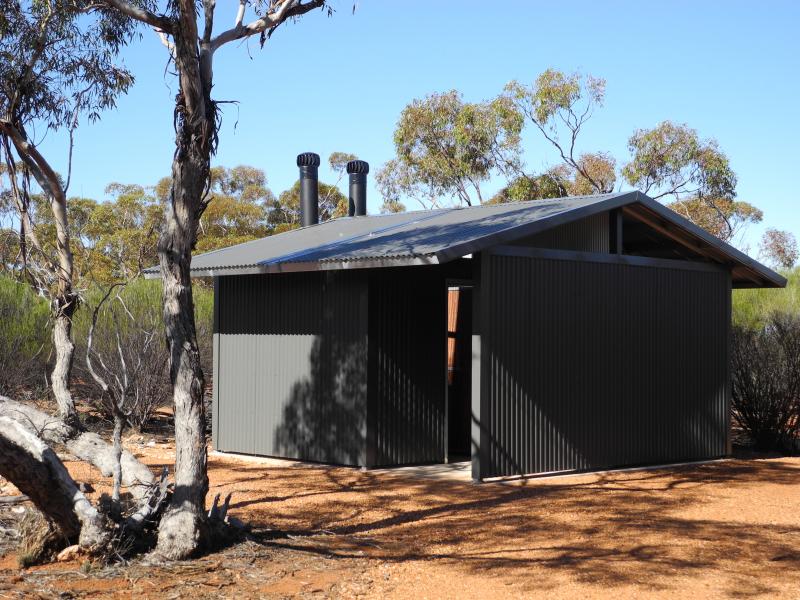 Originally established as a pastoral lease in the early 1900s, Credo is now a 200,000 hectare conservation park which also includes Rowles Lagoon and the Clear and Muddy Nature Reserve.
Here, you'll find the remains of old gold mines, beautiful eucalyptus and wildflower-laden bushland, freshwater dams, waterholes, lakes, and of course, the old homestead.
An ideal destination for an exciting day trip out, you can enjoy a spot of bird-watching and exploring and photographing the nature-filled surroundings.
When the water levels are up, you can go for a dip in the lagoon or even try your hand at yabbying (the park also has barbecue facilities, so you can throw those little guys straight onto the fire for a quick and tasty feed!)
Credo also has toilet and shower facilities if the kids need a rinse off from playing all day, and there is also an informational shelter to learn more about the area.
A couple things to note are that pets are not permitted, and to watch out for any mining activity that may be going on around the park.
Take a ride at the Coolgardie Camel Farm
Location: Coolgardie
Opening Hours: 9am to 5pm, 7 days a week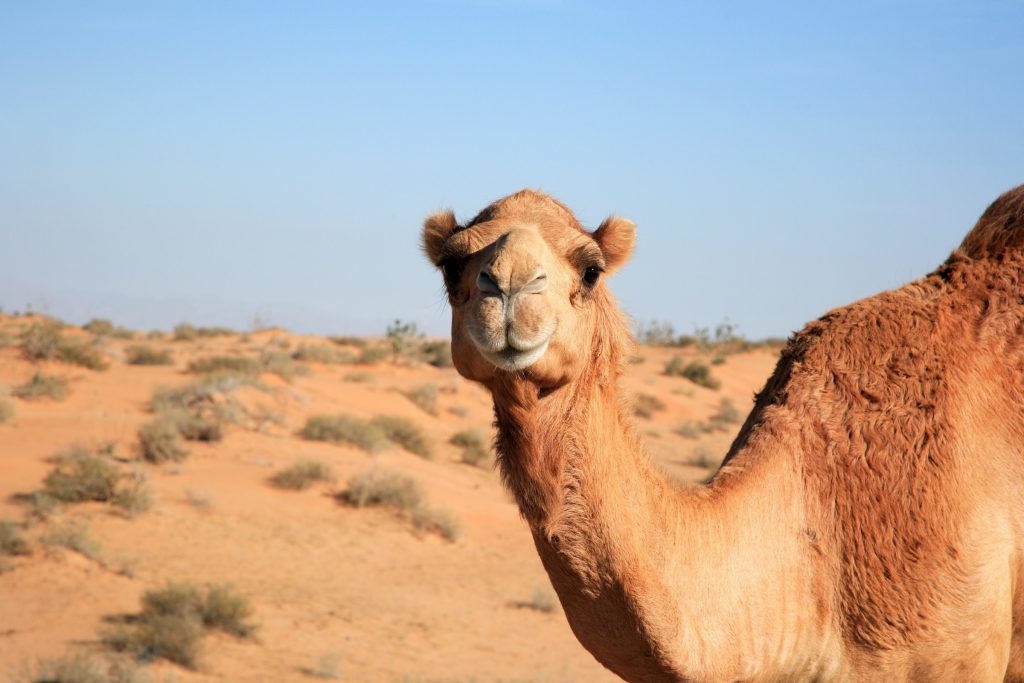 It may sound like a tall story, but did you know that camels played an important part in making the Goldfields the thriving mining region it is today? First arriving in Western Australia in 1892, these hardy, hard-working, and resilient animals were instrumental in transporting materials and people to the area.
It's only natural that they deserve a bit of a celebration.
Only a half-hour drive from Kalgoorlie, located just outside the neighbouring town of Coolgardie, you'll find the Coolgardie Camel Farm.
Here you can get up and personal with the mighty animals that helped build the Goldfields. Learn about the history of camels in the outback, hear some of the myths and made-up stories about them, and discover what they're actually like.
Take an interactive visit and get up close and personal: meet the camels face-to-face, get to know their personalities and, if you're lucky, you might even be able to take a ride on one—if they're in a patient mood, that is.
Broad Arrow Tavern
Cost: Approx. $25.00 for a meal and drink
Opening Hours: 12pm – 7pm from Monday to Wednesday, and 11am – 7pm from Thursday to Sunday
Driving time: 20 minutes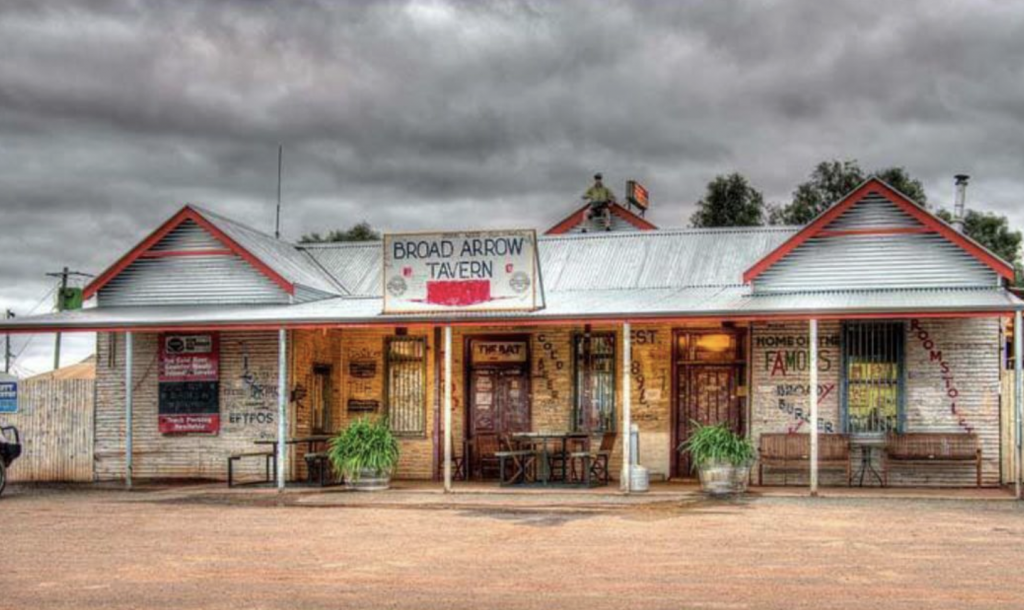 Broad Arrow is one of many small ghost towns you'll stumble upon throughout the Goldfields. The town had a population of 15,000 at its peak and its very own stock exchange, but today it has just one hotel surrounded by the ruins of bygone days.
The main drawcard for this little town is the Broad Arrow Tavern. If you want to get a real taste of outback Australia, then you'll love the atmosphere of this little pub that draws visitors from all corners and walks of life. Drop by for ice-cold drinks and their famous 'Broady burgers' and make some new friends as you relax in this family-friendly tavern.
If you're looking for somewhere comfortable and central to stay on your next visit to Kalgoorlie, we'd love to have you at The Plaza Hotel.
To enquire about accommodation, give us a call on 08 9080 5900 today or book through our website.