Booked your Kalgoorlie accommodation and ready to hit the road from Perth? Thanks to its relatively dry winters and warmer temperatures, Kalgoorlie is an ideal destination for winter stays in WA, and there's so much to see on the journey there itself.

Before we get into some of the best sights to stop at along the way, here are some must-know travelling tips when embarking on a long-distance drive:

Aim to leave earlier in the day and avoid driving at night time.

The drive from Perth to Kalgoorlie is approximately 6.5 hours or longer if you make a few stops along the way. As wildlife tend to be most active after dark, you'll want to leave early and avoid driving at night to reduce your risk of hitting an animal and getting into a nasty accident.


Bring adequate amounts of food and water.

You never know when you may encounter a car breakdown or how far away your next stop for food and water will be, so make sure to pack enough to last you throughout the trip (snacks will keep the kids happy in the backseat too!)


Stop for regular breaks.

Make sure you stop to stretch your legs, refill on fuel and supplies, or switch drivers so that you're not driving while fatigued.

Now that you're prepared for the trip, start planning your itinerary with these popular sightseeing spots on the way to Kalgoorlie.



1. Travel back in time to charming York

Officially the oldest inland town in WA, York is a picturesque place to stop and enjoy some morning tea, while exploring some local history and country scenery.
Enjoy a leisurely walk around the town centre while marvelling at the preserved heritage buildings. The York Town Hall, York Residency Museum, and Imperial Homestead are just a few famous buildings still standing from the town's early gold rush days.
York is also known for its specialty shops and gastronomic delights. If you've got a sweet tooth, the Penny Farthing Sweets shop has a huge range of local and imported confectionery to try.
The York Olive Oil Co. also boasts the best ice-cream in WA, with locally-inspired flavours like Jarrah Honey, Mango, and Macadamia. Plus, if you're seeing family and friends in Kalgoorlie, you might like to pick up some of their hand-made jams, honeys, or infused olive oils as a gift.



2. Look up at supersized artwork at Merredin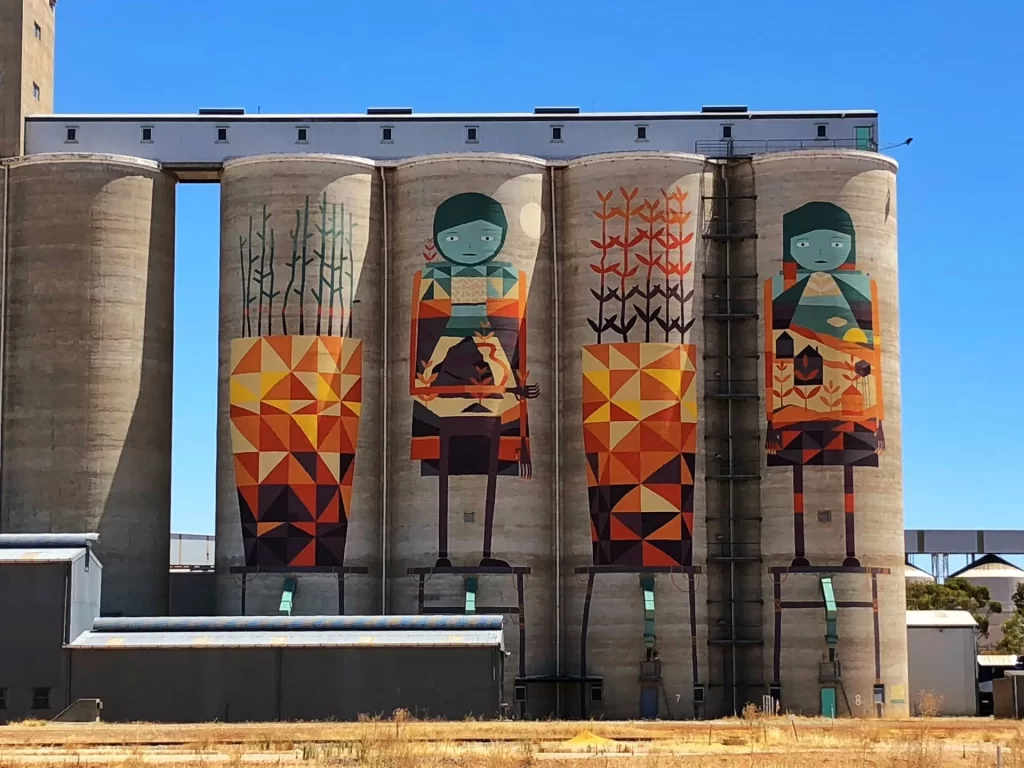 About halfway between Perth and Kalgoorlie is Merredin, another small town in the Wheatbelt. Merredin was originally a place where travellers would stop and rest on their journey to the Goldfields, and has an interesting history waiting to be discovered in its various museums and old buildings.

Merredin is also part of the PUBLIC Art Silo Trail, and is a must-see for art lovers who like to get their 'gram on. In 2017, four of the eight grain siloes owned by Merredin CBH Group were painted by the artist Kyle Hughes-Odgers, creating a stunning mural that stands out amongst Merredin's vast farmlands.



3. Take a detour to catch Wave Rock
This stop will take you a little bit off track, but it's worth the extra time if you have it in your itinerary! If you turn south-east from Merredin, you'll come up to another town called Hyden, where the famous Wave Rock is located.

A natural wonder that has formed over millions of years, Wave Rock is a 15-metre high granite rock that resembles an ocean wave. Surrounded by beautiful bushland, this is another special sight you'll want to capture in photos.

A cool bonus for this detour is the nearby Hippo's Yawn – another rock which features a shallow cave that makes it look like a yawning hippo. While you're there, you can grab a coffee at the Wave Rock Cafe and grab a souvenir from the Wildflower Shop.



4. Stay close to all the action in Kalgoorlie at The Plaza Hotel
After a long yet fun-filled trip exploring WA's rugged beauty and country towns, you'll finally make it to the gold capital of Australia – Kalgoorlie!

To make the most of your stay here, you'll want to stay somewhere central to all of Kalgoorlie's main attractions and amenities. At the Plaza Hotel, we have a range of fully-serviced hotel rooms with stunning views of the city and landscape from your own private balcony.

If you'll be staying with us this winter, you might like to check out our latest guide on things to do during winter in Kalgoorlie.

Looking for short stay accommodation in Kalgoorlie and want to enquire about a booking? Give our friendly staff a call on 08 9080 5900 or browse our rooms and book through our website.